Sussex Signs Charity of the Year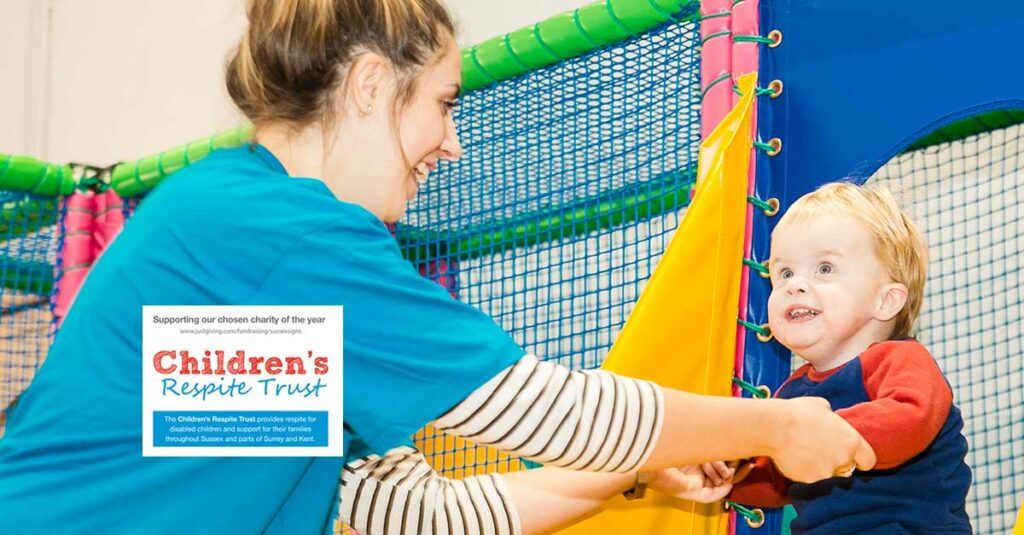 Local children's respite charity chosen as our Charity of the Year
This year, The Sussex Sign Company has chosen The Children's Respite Trust as their charity of the year.
It is always a difficult choice and one that is made by our team at Sussex Signs. Over the 26 years we have been in business, we have supported a huge number of different charities. Last year we raised £643 for Guide Dogs for the Blind.
Choosing the right charity for The Sussex Sign Company
This year we wanted to focus on a local charity and one that supported families. The Children's Respite Trust is based in Uckfield, East Sussex and was founded in 2010 with the idea that too many families faced huge difficulties when bringing up a child with significant disabilities.
As there are not enough places in respite centres for disabled children, their parents and siblings face an uphill struggle to look after a disabled child. Statistics show that siblings were more likely to get into trouble at school, they would also take on more responsibilities at home and experience less time with their parents. The strain that parents go through frequently cause more marriage break-ups when there is a disabled child in the family.
The Sussex Sign Company and our team have decided to support The Children's Respite Trust who support these caring families in East and West Sussex, Brighton and Hove, Surrey and Kent. Caring for a disabled child 24 hours a day is tiring and the trust offers much-needed support, and activity sessions for the children both with and without their families. The centre in Uckfield is a place where families can come together and know they are not alone. Please read more about the centre here.
The aim of The Children's Respite Trust is 'that no family should have to care for a disabled child alone'. With their day care provision at their centre in Uckfield, and through a dedicated team of community support-workers in children's own homes across Sussex and Kent, as many families as possible benefit from the respite. This allows the families time and space in which to be more of a normal family for their other siblings and provides the disabled children with stimulating, fun and safe activities in which they can learn and develop.'
Supporting The Children's Respite Trust
We hope our fundraising in 2022 can support the work of this centre. Please support us by visiting our Just Giving page
We needed signs for our new offices, in Burgess Hill. Sussex Sign's were total pro's. We gave them the artwork, they made everything we needed and even came to install it all. Went like clockwork. I would absolutely recommend...
Kirsty Hague
15. December, 2022.
The team at Sussex Signs are incredibly customer focused, They have worked for me on a variety of jobs and offer a large choice of solutions for clients. thank you so much to Norman and all of his dedicated team.
Paul Cartwright
14. December, 2022.
Love these guys! Excellent service. Despite being in a similar industry, we still had a bit of messing about with graphics, but the team were very patient. The fitters were excellent too, working throughout a wet morning. Really pleased with the finished job.
Ella Whitfield
13. December, 2022.
Very professional and polite company. Always a pleasure to use.
Clearline Recruitment
22. November, 2022.
We recently moved offices and used Sussex Signs for a variety of Signage. All works were completed in the timeframe agreed and we are very happy with the results.
Janice Ashton
22. November, 2022.
It is always a pleasure working with these guys - the team is professional, they communicate throughout the process and most of all, their signs look great and last!
Smudger
11. November, 2022.
A huge thank you to The Sussex Sign Company for a fantastic job on my van 😻😻 Norman and his team were great from start to finish, Highly recommend A*
Jordan Lickliter
1. November, 2022.
Sussex Signs is Brighton Gin's go to signage maker and we are always thrilled with their work and level of customer service. As a small local business we love to support other local companies and Sussex Signs never disappoints! Highly recommend!