Sign maker and manufacturer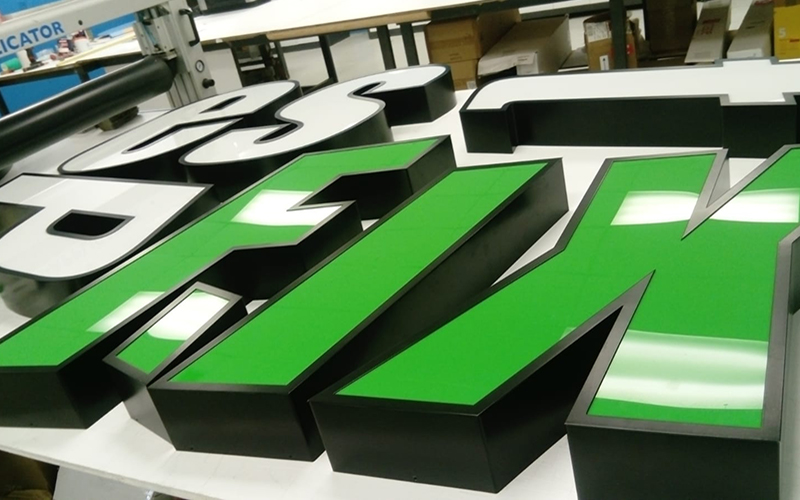 We make, manufacture and install commercial signs in the South-East.
The Sussex Sign Company offers an expert sign manufacturing service for companies in Brighton, East and West Sussex, Hampshire, Surrey and the South-East. If you require commercial business signs and an end-to-end custom design sign service, why not talk to us today for some expert advice?
So much of business success is determined by visibility. It's down to us to get your business noticed and we are very proud of high-levels of satisfaction from our sign manufacturing team and our expert installers.
Commercial signs – manufactured and installed
We can make, manufacture and install any type of business signage. Our first-class service starts with our team knowledge which is 30 years in the sign industry. We continually innovate and provide the best signage solutions frequently surpassing our clients' expectations.
Our team is highly trained, efficient and precise to provide you with excellent project management and a tailor-made solution. As the preferred signage company for businesses and organisations like the Sussex Police, The Brighton Centre and The Grand Hotel, you can be assured our sign manufacturing, production and installation is first-class.
Working within your timeline and budget
Whatever our job, from working on the i360 to a van wrap, you can be assured we're quick, reliable and use the best materials which will last for years to come. We guarantee our work and are so confident in the quality, that we guarantee it for 36 months. This means there is no outlay in the rare event of any defects in product or installation.
The advantages of using a professional sign company
From the moment we start working with you, we will be ensuring your company's image and branding is safeguarded. We have all the tools to complete the job seamlessly from design and production to assembly and installation. We work professionally and have robust health and safety practices in place with a Safe Contractors Gold Award.
Sign fabrication
We make the majority of our signs in-house, but where needed we use specialists manufacturers.
25 years of industry experience provides a thorough understanding of the signage and rebranding process
A site survey to make sure the location is set-up for the installation
Good communication as our whole team works together at our head office and workshops in Portslade, East Sussex, on the outskirts of Brighton.
Our consultation process ensures you receive high-quality signs, delivery, assembly and installation by a highly skilled team of professionals.
Complete fleet rebranding, office signage and on-site installation
High-rise signage and ground level installations
Careful management of pedestrian and employees safety
Minimal disruption during progress of work
High-quality craftsmanship and extended care guarantee
Our technicians and craftsmen combine the care of traditional sign making with the precision of modern machinery to ensure your signs stand the test of time.
We are so confident of our work that we guarantee it for 36 months, meaning there is no outlay in the unusual event of any defect in product or installation.
Want to know more?
Please use the The Sussex Sign Company enquiry form or call us on 01272 424900 and talk to us about your new project.
We needed signs for our new offices, in Burgess Hill. Sussex Sign's were total pro's. We gave them the artwork, they made everything we needed and even came to install it all. Went like clockwork. I would absolutely recommend...
Kirsty Hague
15. December, 2022.
The team at Sussex Signs are incredibly customer focused, They have worked for me on a variety of jobs and offer a large choice of solutions for clients. thank you so much to Norman and all of his dedicated team.
Paul Cartwright
14. December, 2022.
Love these guys! Excellent service. Despite being in a similar industry, we still had a bit of messing about with graphics, but the team were very patient. The fitters were excellent too, working throughout a wet morning. Really pleased with the finished job.
Ella Whitfield
13. December, 2022.
Very professional and polite company. Always a pleasure to use.
Clearline Recruitment
22. November, 2022.
We recently moved offices and used Sussex Signs for a variety of Signage. All works were completed in the timeframe agreed and we are very happy with the results.
Janice Ashton
22. November, 2022.
It is always a pleasure working with these guys - the team is professional, they communicate throughout the process and most of all, their signs look great and last!
Smudger
11. November, 2022.
A huge thank you to The Sussex Sign Company for a fantastic job on my van 😻😻 Norman and his team were great from start to finish, Highly recommend A*
Jordan Lickliter
1. November, 2022.
Sussex Signs is Brighton Gin's go to signage maker and we are always thrilled with their work and level of customer service. As a small local business we love to support other local companies and Sussex Signs never disappoints! Highly recommend!