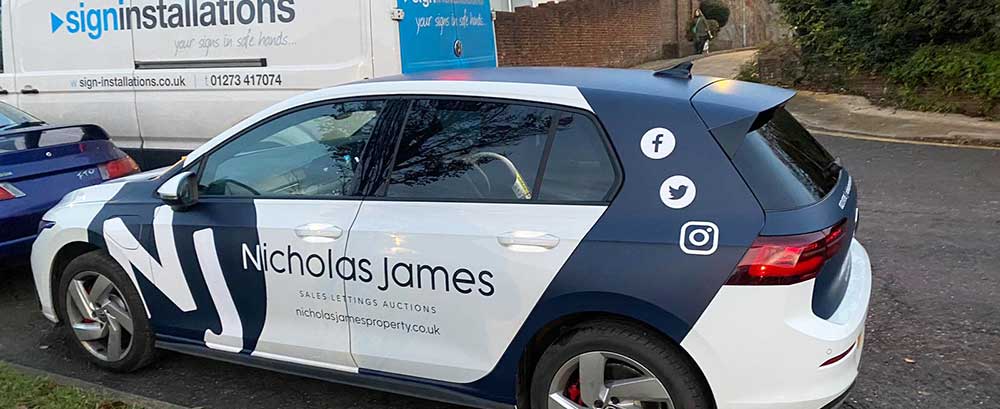 Vehicle sign writing: wraps, graphics and decals.
Vehicle sign writing is a great way to get your business noticed and to stand out from the competition. It can be used to brand your business, promote your services and products, and even provide directions to your premises.
We recognise how important it is to promote your company and make your vehicles highly visible on the road. Using the most advanced signwriting techniques and the best materials to guarantee your vehicle is easily seen.
Production and design experts
Our production and design teams are experts in their field and offer a wide range of graphic options, vehicle sign writing and vehicle wraps. In addition, we are committed to customer service and aim for 100% customer satisfaction. Check out our reviews.
The Sussex Sign Company has been car wrapping and sign writing, vans and trucks for over 30 years and have tried nearly every kind of vinyl on the market. As standard, we use only 3M or Avery Dennison high-vis vinyl for emergency vehicles. These two manufacturers are regarded as the best two vinyl manufacturers in the world. Of course, you pay for what you order, and they are more expensive, but if you want a first-class job, it is worth paying the extra.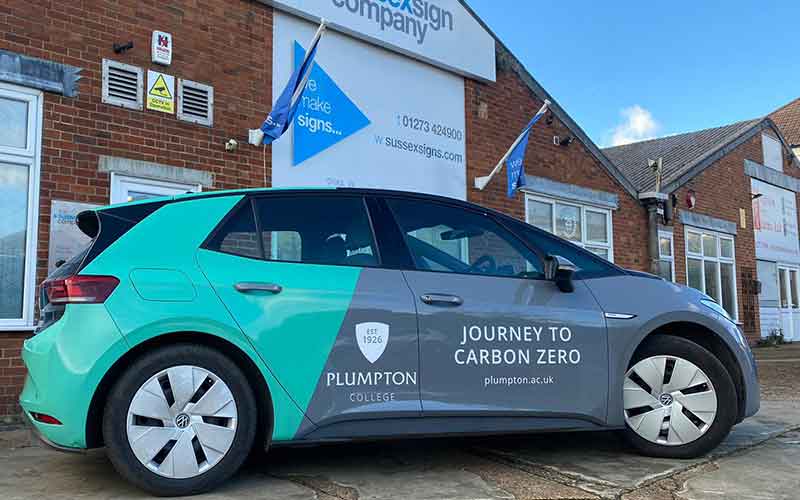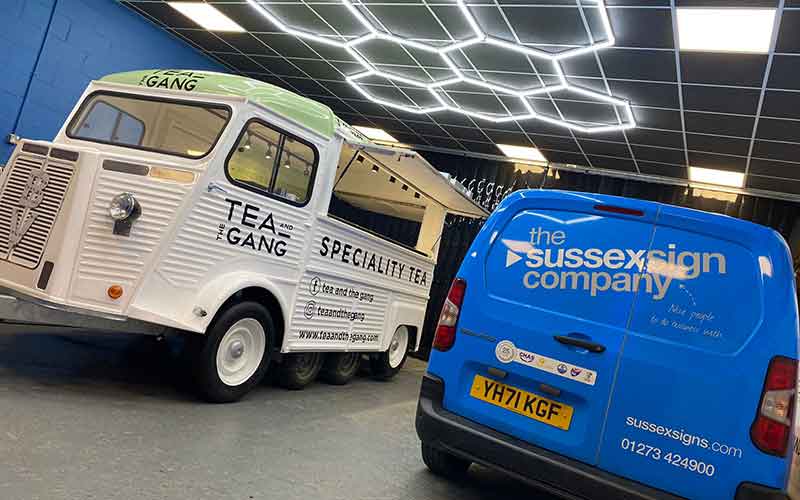 How much does sign writing cost?
It depends on what you require and the size of your vehicle. A partial wrap on a small car might cost upwards of £500. If you only want your company name, logo and phone number in vinyl, then the cost is less. However, if you have a larger van and want a full wrap, you must take in the design cost, a three-day fit and high-quality materials, and a price tag of over £2,500. But ask us for a quote, and check out ideas and view some of our car wraps and vehicle graphics in our vehicle gallery.
All our work comes with a 3 year guarantee. However, the manufacturer's warranty on materials can come with up to 5 years, subject to terms and conditions.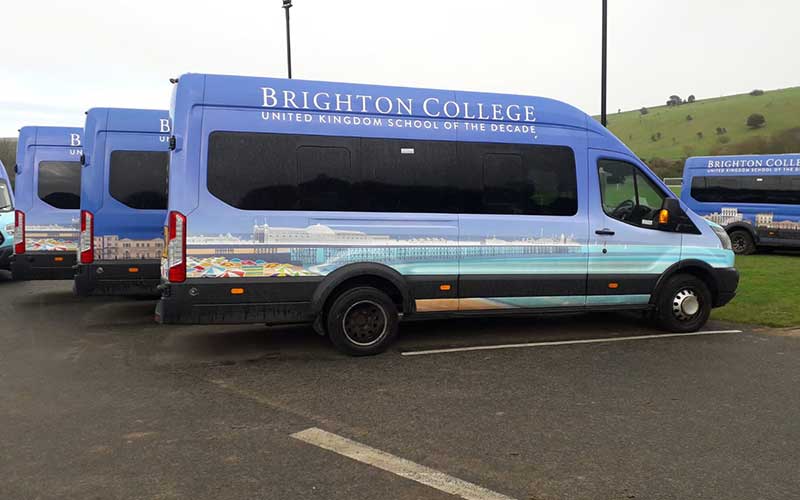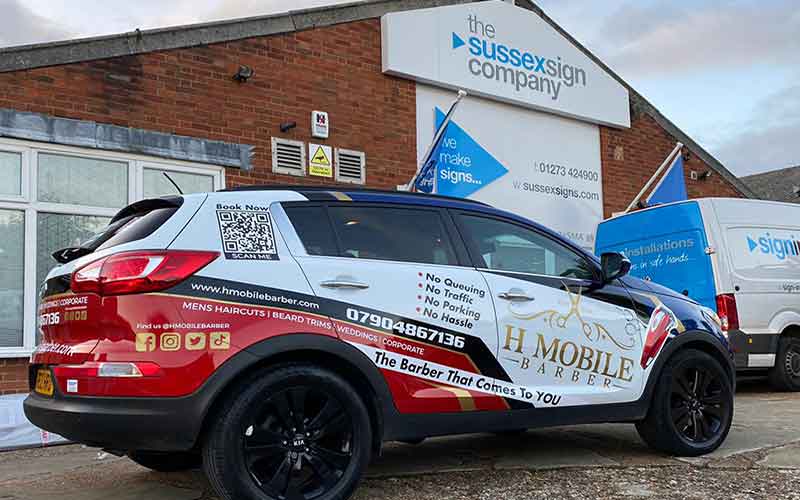 Vehicle signwriting is a very effective form of advertising and can be used on any vehicle, from cars and vans to trailers and boats. Using a combination of text, logos and graphics, you can create a unique and eye-catching design to get your message across.
Additionally, signwriting can be applied to a wide range of materials, including metal, plastic and even glass, ensuring that your graphics remain vibrant and fade-resistant for years to come.
What is vehicle sign writing?
Vehicle signwriting is a form of advertising printed on a vehicle's sides, roof or bonnet. It can be used as a brand promotion or to advertise specific services and products. Depending on your vehicle type, we can create a design with a particular colour scheme and style to create a highly effective commercial vehicle and car wraps.
Benefits of vehicle sign writing
There are many benefits, but one of the most important is that your vehicle works for you wherever it is parked or driven. It can be seen 24 hours a day, seven days a week, wherever you work. Your brand recognition will continually increase with your logo being seen by the public. Take advantage of an ideal opportunity to promote your services or products and one that will continue to work for you.
Designing your vehicle sign writing
When creating your vehicle signwriting design, you will want to consider several factors, including the message you want to convey, the environment in which you wish to place it, and the type of vehicle you are using.
Our designers take in many factors when designing, such as your logo, brand colours, products and services, vehicle size and placement of the writing. Unless requested, we avoid using too many colours and stick to a few vibrant tones that will help draw attention to your logo or message.
We suggest you come and talk to our experts. Let us show you some designs based on your brand logo and vehicle's paint colour. Your signwriting design should be easily readable from a distance, the lettering large enough to be seen from a distance, and correctly positioned for the vehicle.
When investing in sign writing or wrapping your vehicle, ensure you see a design and sign it off before the project commences. Whether you are looking for a van wrap in Worthing, a car wrap in Brighton or a commercial vehicle wrap near me, contact us for further information on 01273 424900 or use our contact form.
Mrs K Hayler
28. October, 2023.
Fantastic "Celebration Wall" designed and installed by The Sussex Sign Company for use atThe Weald School. Great service and value for money thank you.
Megan Welstead
27. October, 2023.
Brilliant service, great communication and exceeded expectations. All signage was installed promptly with clear well printed graphics.
Brighton Pinot & Picasso
27. October, 2023.
The Sussex Sign Company helped us get our new studio decked out ready for opening at very short notice. We are really pleased with the result and get lots of positive comments from guests.
Andy Hill
4. September, 2023.
Excellent communications and helpful staff.
SE Rambler
12. June, 2023.
Brilliant customer service and our company signage is in place after just a few weeks (from initial call to onsite measurements to installation). We have used your services twice (in quick succession) because of the seamless service. And we will now put you on our preferred supplier list (and recommend you to others). Very happy customers and we highly recommend The Sussex Sign Company.
Stephanie Pitts
5. June, 2023.
Great service from Andy Gomm and the team. Great value for money and very responsive in an emergency.
Fraser Williams
1. June, 2023.
Really great to do business with. Anastasia really worked hard to get my Squash Club Bar sign done and I'm very happy with the quality for the price paid. Lots of design input and guidance through the process regarding quality and colours. Good communications throughout. Thanks SSC!
John Rayment
13. April, 2023.
I recently used Sussex Sign Comany for our 15th store in Caterham. Great quality and service from start to finish!