Signage maintenance and repair

Keep your signage maintained by industry experts.
A successful sign system relies on professional installation and signage maintenance.
Nothing lasts forever, but our signage maintenance service can provide all the love and care your signs need, ensuring they will last for many years to come and still look as fresh as the day they were installed.
We understand the importance of regular maintenance and repairs, and offer various maintenance contracts to keep your signage looking at its best. If you have invested in high-quality signage, it makes sound business sense to ensure that it is kept in tip-top condition, to maintain its visual impact and safety.
Signage maintenance is a legal requirement
Signage maintenance is not an option but a legal requirement under three separate statutory regulations, so it's essential your signs comply with building regulations, town planning requirements and health and safety law. The owner of a sign is ultimately responsible for its upkeep and safety, and will need to ensure it is regularly inspected and repaired if required.
The Sussex Sign Company can provide all the ongoing signage maintenance work you will need following the installation. To ensure your signs remain safe, clean and operational, make sure you speak to our maintenance team today.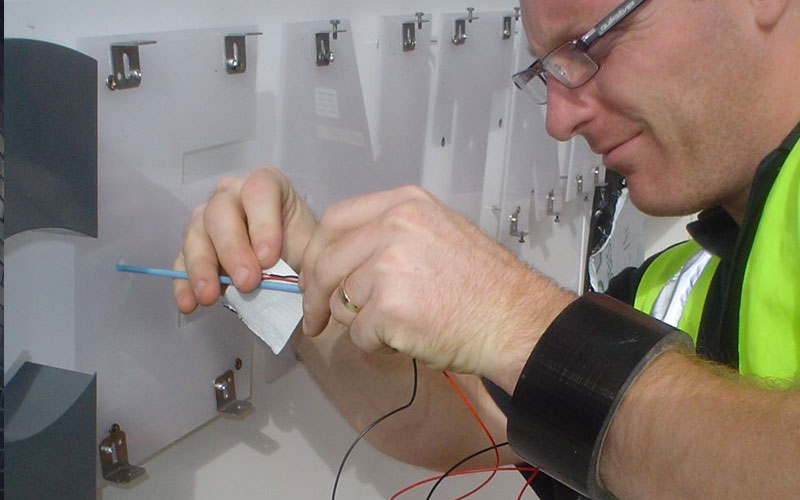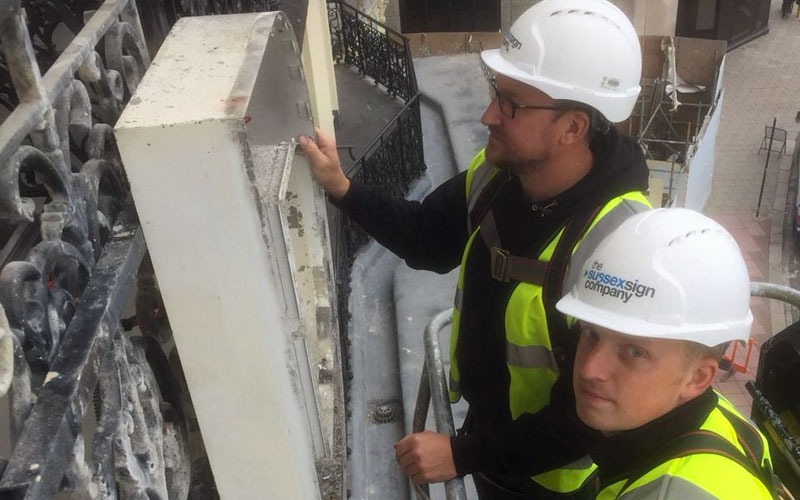 Why maintain your signage with us?
The Sussex Sign Company has been around for over 25 years, proving we have exceptional knowledge and experience needed for signage.
Our maintenance team know how our signs are created and understand just what is needed to keep your signs safe and looking their best. We offer a wide range of maintenance packages to suit your needs:
Annual cleaning and inspection
Safety checking the structural integrity of the signage
Electrical component inspection and repairs
Illumination trouble-shooting
Low energy LED conversion of old lighting systems
Damage assessment and repairs
Planned preventative maintenance programme
Every member of the team is experienced and highly-trained in sign maintenance, with a comprehensive knowledge of everything from production and manufacturing to installation and maintenance techniques.
Protect your public image and brand
Taking out an ongoing maintenance package with us is the safest way of protecting your brand and your public image. Scheduled inspections allow us to detect problems and nip them in the bud before they become a major issue, avoiding putting safety at risk or any failures in your sign's performance.
Sign repair service
We also offer a business and commercial sign repair service and can fix your signs to ensure your visual displays are returned to a good condition. General signage repairs can come about because of poor maintenance, being exposed to bad weather and sunlight, vandalism and damage to LEDs and lightboxes. Missing letters can result in the whole design remaining dark but our expert technicians are great at diagnosing problems.
Whatever your problem, we have it covered. Our team has both the skills and resources to provide you with the best solutions and ensure any damage is fixed and your signs are returned to their former glory.
Sign restoration - aluminium, metal and acrylic signs
Using high-quality metal or aluminium signs will ensure your brand looks good for years with regular maintenance. Acrylic signs are also long-lasting when they are serviced and looked after. However, signs don't last for ever and there will come a time when restoration becomes inevitable. If you do need a sign audit, or would like a quote to upgrade your displays, please give us a call on 01273 424900.
Keep your brand looking immaculate
Your brand identity rests so heavily on your signage that commercial success may hinge on keeping your signs looking immaculate. People judge by appearances and first impressions count, so maintaining your signs really could mean make or break. For more details, or a quote, please contact us or call 01273 424900.
We needed signs for our new offices, in Burgess Hill. Sussex Sign's were total pro's. We gave them the artwork, they made everything we needed and even came to install it all. Went like clockwork. I would absolutely recommend...
Kirsty Hague
15. December, 2022.
The team at Sussex Signs are incredibly customer focused, They have worked for me on a variety of jobs and offer a large choice of solutions for clients. thank you so much to Norman and all of his dedicated team.
Paul Cartwright
14. December, 2022.
Love these guys! Excellent service. Despite being in a similar industry, we still had a bit of messing about with graphics, but the team were very patient. The fitters were excellent too, working throughout a wet morning. Really pleased with the finished job.
Ella Whitfield
13. December, 2022.
Very professional and polite company. Always a pleasure to use.
Clearline Recruitment
22. November, 2022.
We recently moved offices and used Sussex Signs for a variety of Signage. All works were completed in the timeframe agreed and we are very happy with the results.
Janice Ashton
22. November, 2022.
It is always a pleasure working with these guys - the team is professional, they communicate throughout the process and most of all, their signs look great and last!
Smudger
11. November, 2022.
A huge thank you to The Sussex Sign Company for a fantastic job on my van 😻😻 Norman and his team were great from start to finish, Highly recommend A*
Jordan Lickliter
1. November, 2022.
Sussex Signs is Brighton Gin's go to signage maker and we are always thrilled with their work and level of customer service. As a small local business we love to support other local companies and Sussex Signs never disappoints! Highly recommend!